Spring Time Driving - Be Defensive - Prevent Traffic Accidents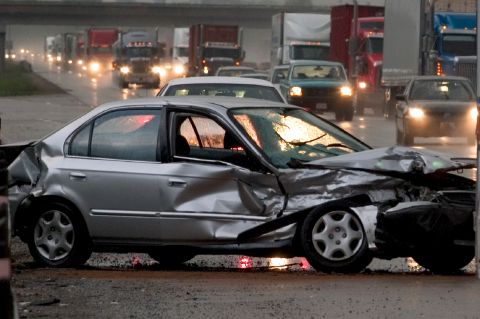 Spring and spring showers are here.  Once those Canadian winter storms have subsided and the snow has melted its glorious springtime and spring-time driving weather once more.  Driving takes on a new – and some say perhaps even more dangerous appeal.It can be said that with all the trees blossoming and flowers sprouting new motorists along with the previous crew- albeit with different and even more aggressive driving traits and habits come into play onto roads, byways and highways in your locale.
Greater Volumes of Traffic on the Road As Well as Inexperienced Motorists:
Watch for it while driving - convertible tops come down and even off on some Porsche sports cars. In addition like clockwork, out come those "Sunday drivers", whom have limited driving skills and perhaps even less experience on the road and road safety.Why is this?  Perhaps many go away in the cold winter months – to say Palm Springs, California, Texas or Puerto Morelos Mexico and are hence off the roads and streets.Other, mainly older drivers will actually put their car into storage to prevent winter-time auto wear and tear.  Others just don't like or are afraid of winter driving perils.  Regardless you count on one thing for sure as a truism.  That is a lot lot more cars , trucks , crossover SUVs and vans on the roads, and more road-wise congestion , while  you are driving down towards your destination or destination .  On top of that count on a lot more construction, road-repair and building and detours to slow down your travels to your end point.
Spring & Summer – Higher Volumes of Traffic Accidents & Collisions:
Yet keep in mind that as a direct result of being higher volumes of traffic on the road, people being in a hurry and the inexperience of youth that there are often a lot more auto accidents , collisions and yes unfortunately as a direct result traffic fatalities and injuries.  With summer and the vacation season arriving shortly as well , it only gets even a bit more tricky with visiting and vacationing tourists who  are also unfamiliar with local roads, traffic conditions and also local state and provincial road and highway regulations. For example while cell phone, while driving a car , may be illegal and subject to a police ticket in neck of the woods, uncle Harry from vesting from Minneapolis ,may not know this and may be distracted while driving on the street ahead of you.
Drive Defensively & Proactively: It's Your Duty & Responsibility:
Hence when driving this spring and in the upcoming summer be careful, proactive and defensive in your motoring and drives.  It takes two to tango.  You should take a direct responsibility in preventing any and all accidents.  Your car and your frustration levels will be a lot better off for it.
Louise Pitt-Meadows has many years of experience as a service tech at a Vancouver BC area Maple Ridge -  new & used car dealership. Sure her main brands of preference are new Chevrolets along with GMC trucks.  Yet "her guys"  work well to do expert diagnostics and service on all types and models of cars and trucks. Often customers will bring problem vehicles and drive off the dealer lot with their auto maintenance problems solved. Pitt-Meadows has been well trained that her role is to bring up-coming service areas to the customer's direct attention.  Otherwise its both a safety and auto care issue.  This is the best value overall to any families automobile budget. After all its all about reliable and safe transportation.
---
More to Read: