Selling Your Car - Getting a Higher Sales Price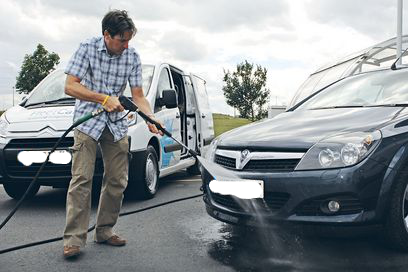 Before you list your used automobile in your local newspaper, Craigslist, Kijiji and the like, it more than pays to both prepare your vehicle properly for sale and secondly set a price.  Otherwise you will both waste time waiting for buyers to phone or show up and as well cheat yourself out of a fair amount of cash, by getting a much lower selling price.
Pay Extra Attention to Detail When Preparing Your Car for Sale:
Attention to detail is the key when cleaning up and detailing your used car, truck or Sports Utility Vehicle for sale.  Auto sales professionals hold it as a matter of course and a truism that with a thorough cleaning, a mechanical check out you can easily increase both your asking price and final negotiated selling price by many hundreds and indeed thousands of dollars. A second major point to consider with special and niche vehicles. Timing of putting the auction can indeed by critical in the selling process.  For example convertibles and sports cars are notoriously difficult to sell in the fall and cold winter season.  It does not take a marketing genius to figure out why. After all economics can be simply said to be the interaction of both supply of a product and its demand. Who wants to buy a convertible in a cold 40 below January Winnipeg winter? Not many people are thinking of the hot summertime and the luxury of enjoying a drive to Lake Manitoba beaches with the convertible top down.  Conversely , on the other side of the road or highway – if you want to drive home the biggest and best deal of you lifetime on a convertible start shopping Christmas time and January.  You most certainly will be rewarded with a car way below black book market pricing levels. 
Steps Professional Auto Detailers Follow for Extra Special Care:
Here are the basic steps that auto details shops employ in their professional auto detailing shops to get vehicle ready for sale for dealer's lots:
1)    A thorough and full cleaning of car , truck or crossover vehicle – both the interior inside and the outside exterior of the vehicle
2)    A good thorough washing and waxing of the auto.  Rust spots should be properly and professionally repaired
3)    Repair torn upholstery and pedal covers.  You may also want to replace worn out floor mats.
4)    Have the engine properly degreased and cleaned.  Auto industry professionals use steam cleaning.  However less costly alternatives can be purchased at your local big box store in the automotive or automotive finish & polishes clean up section.
5)    Check the levels of all fluids under the hood.  If the engine oil is black and dirty consider an earlier than mileage or time driven indicates oil change.
6)    Consider getting the car "tuned up" at your local mechanic's service station or dealership service center – especially if they are running seasonal "specials".
Summary of the Steps for Making Your Car Ready for Sale Properly – For a Faster Sale & Higher Sale Price:By completing the above  check list for preparation of your car , truck or SUV which you wish to sell you will be rewarded with a quicker , less troublesome and more lucrative and profitable to you final sales price.  Just make sure that you complete the paperwork fully, completely and accurately in detail.
Bob E. Waverley is a well known Winnipeg "car guy" and enthusiast who is well known in the local Wpg sports car clubs Yet its the Mustang Boss 302 that drives this Manitoban's  passion
---
More to Read: